Native North Americans were masters of woodwork, especially in the heavily forested parts of the continent, such as the Northwest Coast.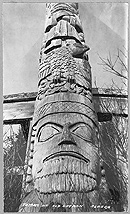 Pottery making was widespread among Native North Americans.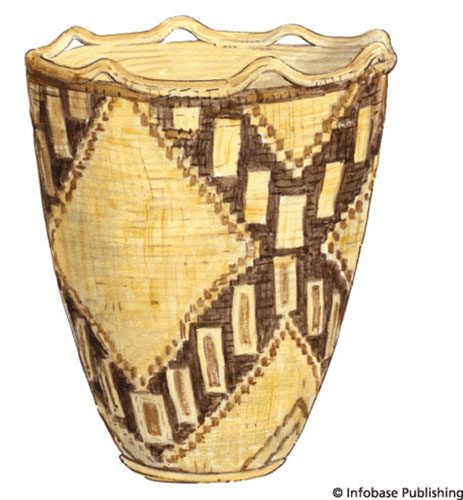 Native North Americans also made clothing, blankets, bags, mats, and baskets from woven fabrics.

"Totem Pole." Library of Congress. Prints and Photographs Division. Frank and Frances Carpenter Collection. American Indian History Online. Facts On File
Acoma Clay Pot, First American Art, The Charles and Valerie Diker Collection of American Indian Art.
"Klickitat Basket."American Indian History Online. Facts On File, Inc.
Pima women used curved sticks to play a game.

For Native Americans, rhythmic motion to music has symbolic meaning and is an element of ceremonies with a variety of purposes. Native Americans still perforn their dances at Pow Wow's throughout the couhntry.

Photo courtesy of Powersource.com
Pow Wow TV
View hundreds of Native American videos of pow wow dancing, singing, concerts, interviews and more.
Amerind Foundation
The Amerind Foundation is a private, nonprofit, anthropological and archaeological museum dedicated to the preservation of Native American cultures and their histories
Heard Museum
The Heard Museum is the Phoenix area's first cultural attraction for learning about American Indian arts and cultures
The Smoki Museum
The mission of the Smoki Museum is to instil an understanding and respect for indigenous cultures of the Southwest.